Products tagged with agent nateur
Agent Nateur
Holi (Oil) Refining Youth Oil
Agent Nateur Holi (Oil) Refining Youth Oil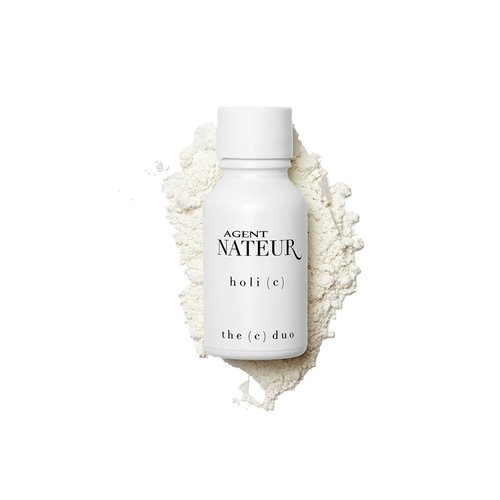 Agent Nateur
Holi(C) Refining Face Vitamins
Agent Nateur's REFINING face vitamines can be mixed directly with your moisturizer, serum or SPF.
Agent Nateur
Holi(Oil) Youth Body Serum
PENETRATES deep into the skin to help improve with tighter, more hydrated skin. Reduces the appearance of cellulite, scars, body acne, & SUN damage, correct dark spots and REPLENISH collagen. h o l i ( o i l ) gives an INCREDIBLE glow and smells HEAVENLY.
Agent Nateur
Holi(Youth) Oceanic Adaptogen
An adaptogen like no other. Contains marine collagen, pearl, spirulina and tulsi (holy basil)
Agent Nateur
HoliRose N4 Deodorant
Agent Nateur & Shiva Rose created A SENSUAL and exotic blend of SACRED sandalwood and heart opening ROSE. The smell is intoxicating and HEALING. Sandalwood is a pheromone and acts as a natural deodorant.
Agent Nateur
HoliStick N3 Deodorant
H O L I ( S T I C K ) DEODORANT WILL KEEP YOU SMELLING LOVELY WELL INTO THE EVENING HOURS WITH A LIGHT TRACE OF HONEY, LAVENDER AND EUCALYPTUS.
*UNISEX*
Agent Nateur
HoliStick Sensitive Deodorant
Agent Nateur's sensitive vegan deodorant was created for the customer who has sensitive skin. This baking soda free formula has floral and woodsy notes of neroli, patchouli and cedar wood.
Agent Nateur
Unisex N5 Deodorant
A SEDUCTIVE, HANDMADE BLEND OF AROUSING VETIVER, HEART OPENING ROSE,CALMING SANDALWOOD, LEATHERY CISTUS AND WARM CEDARWOOD.
*UNISEX*