Products tagged with Soap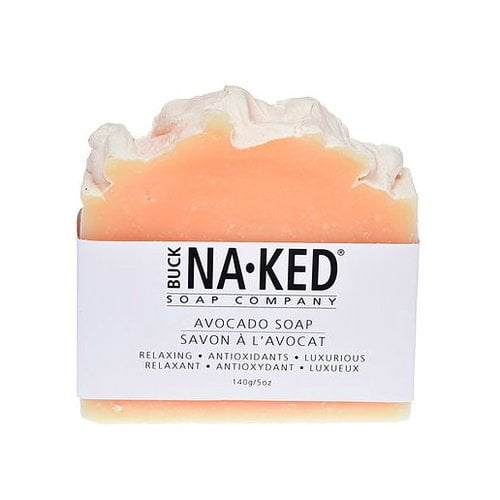 Buck Naked Soap Company
Avocado Soap
AVOCADO OIL IS RICH IN PROTEINS AND NUTRIENTS THAT HELP SOOTHE & MOISTURIZE SKIN. VITAMINS A, D AND E, AS WELL AS LECITHIN AND POTASSIUM – "THE YOUTH MINERAL" – WORKS TO REPAIR DEHYDRATED, ROUGH AND ITCHY SKIN WHILE REDUCING THE APPEARANCE OF INFLAMMATION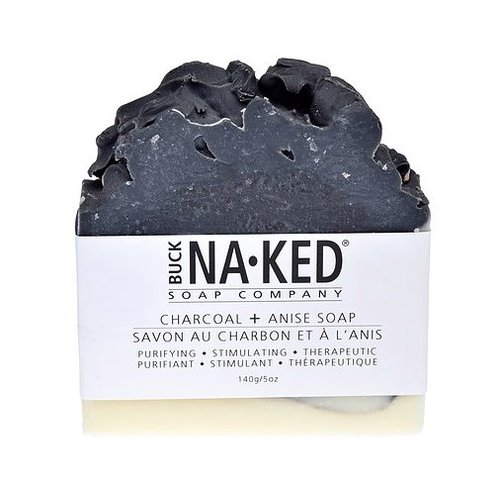 Buck Naked Soap Company
Charcoal & Anise Soap
CHARCOAL & ANISE SOAP IS DESIGNED TO PROVIDE A DEEP CLEAN. ACTIVATED CHARCOAL ABSORBS DIRT AND OIL ASSOCIATED WITH ACNE AND PROBLEMS, WASHING THEM AWAY AND LEAVING YOUR SKIN LOOKING FRESH AND FEELING SOFT. IDEAL FOR OILY SKIN.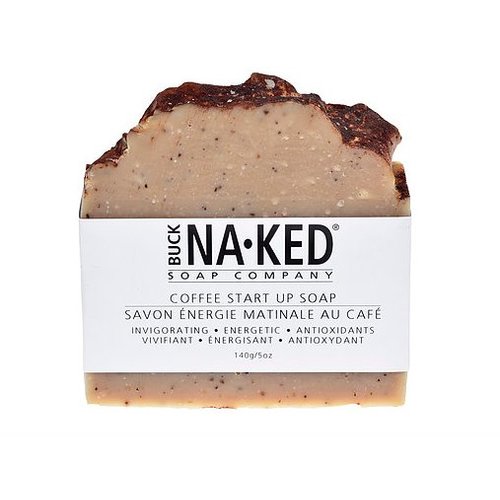 Buck Naked Soap Company
Coffee Start Up Soap
WITH ALL THE ELEMENTS OF AN ARTISAN COFFEE, YOU WILL CRAVE THE MOISTURIZING EFFECTS OF THIS SOAP AS IT HELPS START YOUR DAY. THE INGREDIENTS HELP SOOTHE DRY, IRRITATED SKIN OFTEN ASSOCIATED WITH ECZEMA AND MINIMIZE THE LOOK OF FINE LINES.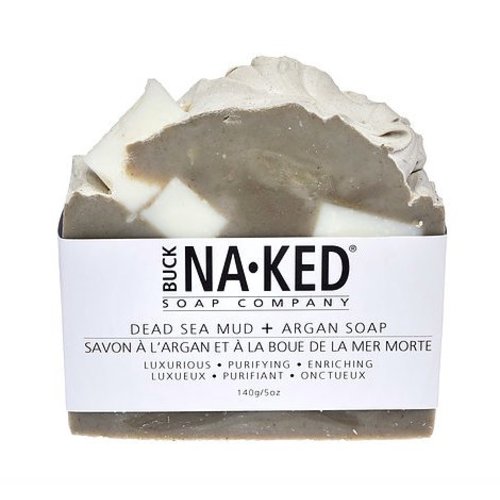 Buck Naked Soap Company
Dead Sea Mud & Argan Soap
NATURALLY RICH IN ESSENTIAL MINERALS, THIS UNIQUE SOAP HAS DEAD SEA BLACK MUD AT ITS CORE. EMBEDDED MOROCCAN ARGAN OIL ADDS AN ADDITIONAL ELEMENT OF LUXURY. ARGAN IS HIGH IN ESSENTIAL FATTY ACIDS AND KNOWN TO REVITALIZE DRY, DULL SKIN.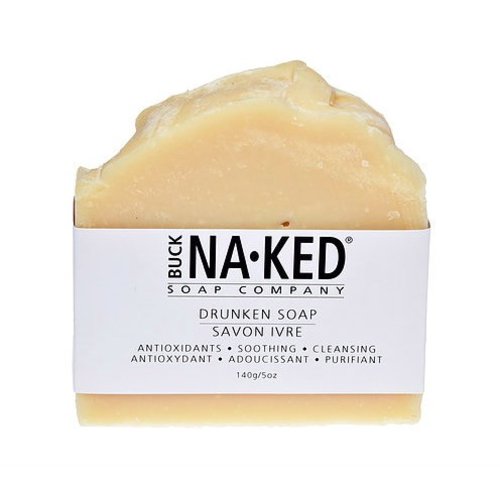 Buck Naked Soap Company
Drunken Soap
REAL BEER IN THIS SOAP BOOSTS INTRIGUE AND LATHER. PROTEIN-RICH MALT, ANTIOXIDANT-RICH AND SOFTENING AMINO ACIDS SOOTHE IRRITATIONS AND REFRESH MATURE SKIN. BUTTERS & OILS AID IN MINIMIZING THE APPEARANCE OF MINOR DERMATITIS. IDEAL FOR DRY AND MATURE SKIN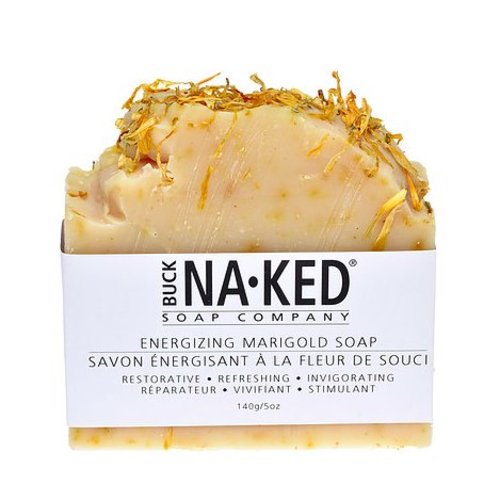 Buck Naked Soap Company
Energizing Marigold Soap
MARIGOLD, GINGER AND VITAMIN E ARE DIVINE TOGETHER! THIS SOAP SOOTHEs MINOR SKIN IRRITATIONS, DRYNESS ASSOCIATED WITH MATURE SKIN, AS WELL AS ADD TO SKIN'S OVERALL RADIANCE. ALONG WITH LIGHT EXFOLIATION, THE INGREDIENTS MAKE BATHING FEEL INDULGENT & LUXE.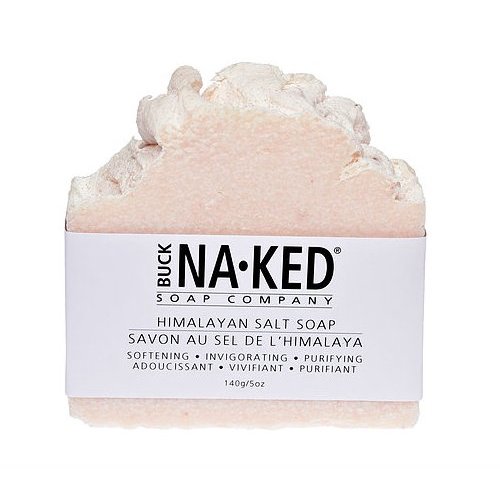 Buck Naked Soap Company
Himalayan Salt Soap
HIMALAYAN SALT MAINTAINs SKIN'S NATURAL OIL BALANCE, DRAWING OUT IMPURITIES WHILE WARM WATER OPENS YOUR PORES TO ABSORB THE BENEFITS. THIS AMAZING INGREDIENT ALSO IMPROVEs MOISTURE, ELASTICITY AND SOFTNESS, REDUCE FINE LINES AND CELLULITE.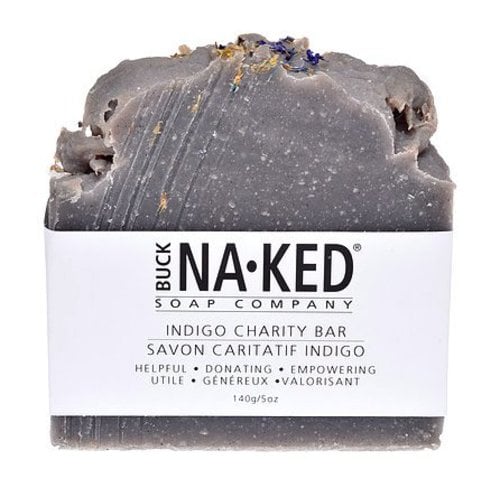 Buck Naked Soap Company
Indigo Soap
THE NOTES OF GARDENIA IN THIS FEMININE SOAP WILL INVIGORATE YOUR MIND WITH ITS SOOTHING SCENT & HAVE YOU DREAMING OF THE SEASIDE. TINTED WITH NATURAL INDIGO, THIS BAR MIRRORS TRANQUIL WATERS WHILE PROVIDING ASTRINGENT QUALITIES.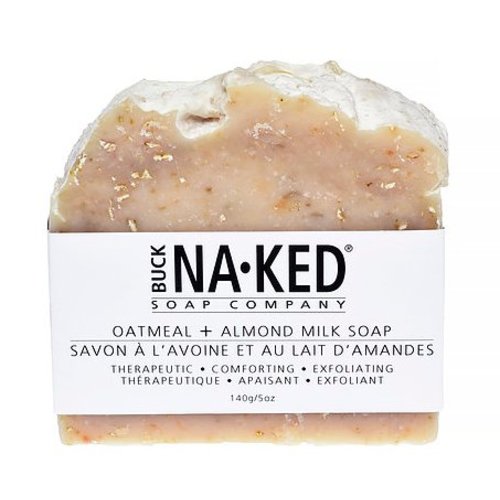 Buck Naked Soap Company
Oatmeal & Almond Milk Soap
NATURE'S BEST COMBINATION, OATS AND ALMOND MILK, EXFOLIATES AND SOFTENS THE LOOK OF DRY AND ITCHY SKIN. WITH A HIGH LEVEL OF ANTIOXIDANTS AND ESSENTIAL FATTY ACIDS, THIS SOAP HELPS REFRESH SKIN'S RADIANCE AND AIDS IN HYDRATION.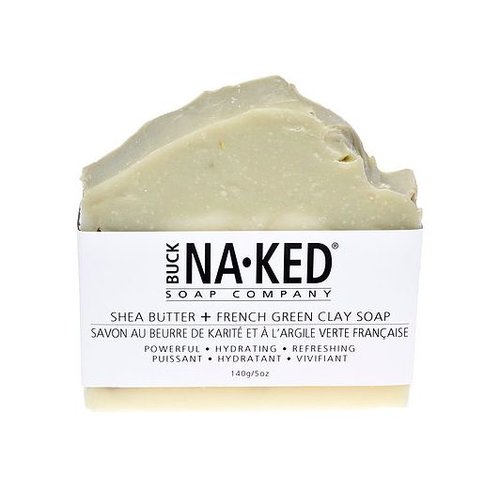 Buck Naked Soap Company
Shea Butter & French Green Clay Soap
RICH AND NOURISHING, HELPS MOISTURIZE DRY SKIN ASSOCIATED WITH ECZEMA AND PSORIASIS AND DIMINISHes STRETCH MARKS. REFERRED TO AS "WOMEN'S GOLD", HARVESTING SHEA BUTTER EMPLOYS WOMEN IN RURAL AFRICA. FRENCH GREEN CLAY FEELS Like A MINI SPA TREATMENT.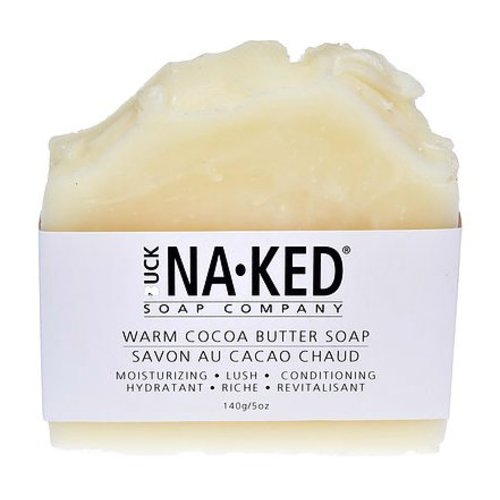 Buck Naked Soap Company
Warm Cocoa Butter Soap
TREAT YOUR SKIN TO THE GLOW & SOFTNESS OF COCOA BUTTER. KNOWN TO REDUCE THE APPEARANCE OF SCARS AND STRETCH MARKS, AS WELL AS BRIGHTEN DULL AND IRRITATED SKIN, THIS GIFT FROM NATURE WILL LEAVE YOU FEELING PAMPERED.